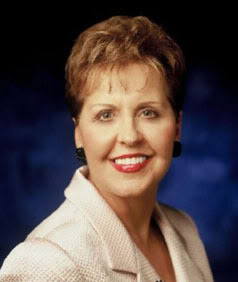 Tharina: That's when my aunt, she had lived close, and Joyce Meyer stuff really started piling in. I'd listen to everything and listen to it and listen to it again. I was in my bible and just completely for the first time just got saturated in it all.
Narrator: Tharina gave her life to the Lord and over time, God helped her break free from the addictions that had a stranglehold on her life. Today, she is the manager of a church day care, she home-schools her daughter Tristin, and she is finally able to help others who are struggling with the same addictions that kept her in bondage for years.
Tharina: If it wasn't for partners giving like they do, I might not be sitting here today like I am if they had not empowered Joyce Meyer to spread the word and make it available like they have. Where would I be without that information? Where would I be?
Joyce: Always remember that indifference makes an excuse but love finds a way.
Joyce: I hope you have enjoyed the things that we've shared with you today and that you feel even better about your part in reaching people with the gospel of Jesus Christ. Because of time constraints we couldn't possibly show you everything that you enable us to do, so please take a little bit of time and go to the web site address on the bottom of your screen for a detailed report of the ministry's finances and outreaches. God bless you and please remember to enjoy every day of your life for the glory of God.
Announcer: We appreciate you and we thank our friends and partners for making this worldwide ministry possible. Together we're feeding the hungry, clothing the poor and presenting the gospel to the nations. Please contact us or visit joycemeyer.org today to share your prayer requests, find out more about our resources, see Joyce's conference schedule and to join us in partnership as we share the love of Christ around the globe.
&copy Copyright 2012 admin, All rights Reserved. Written For:
Joyce Meyer