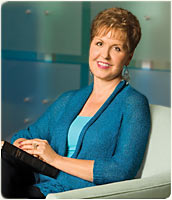 Another place I like to go for encouragement in this area is Genesis 13: the story of Abram and Lot.
Let's first look at verses 8 and 9 (AMP). "Abram said to Lot, Let there be no strife, I beg of you, between you and me, or between your herdsmen and my herdsmen, for we are relatives. Is not the whole land before you? Separate yourself, I beg of you, from me. If you take the left hand, then I will go to the right; or if you choose the right hand, then I will go to the left."
Now, because of Abram's willingness to keep peace in the family, God blessed him.
Take a look at verses 14-17. "The Lord said to Abram…Lift up now your eyes and look from the place where you are, northward and southward and eastward and westward; for all the land which you see I will give to you and to your posterity forever. And I will make your descendants like the dust of the earth, so that if a man could count the dust of the earth, then could your descendants also be counted. Arise, walk through the land, the length of it and the breadth of it, for I will give it to you."
After that, I bet Abram thought it was worth it to let Lot get his way.
I encourage you to apply this lesson to your own life. Maybe somebody's done you wrong, they've taken something from you and left you with nothing. God's got a word for you today. Stop looking back. Stop internalizing everything. Stop feeling sorry for yourself.
Love Gives Up the Right to Be Right
Romans 12:16 (AMP) says, "Live in harmony with one another; do not be haughty (snobbish, high-minded, exclusive), but readily adjust yourself to [people, things] and give yourselves to humble tasks. Never overestimate yourself or be wise in your own conceits."
God's faithful and He'll keep His promises, but you have to live in faith, doing what you can, by His grace, to get along with people. Get your marriage sorted out. Get your friendships sorted out. Get things sorted out at work. I guarantee that you will get more out of it than you ever put into it yourself.
&copy Copyright 2013 admin, All rights Reserved. Written For:
Joyce Meyer