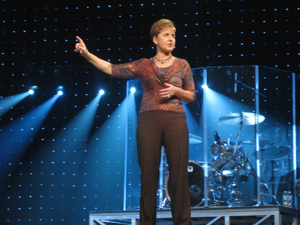 Joyce: Let me just ask you one final question, and we're just about out of time. I know that probably a lot of people watching today think, "I'm stuck in this little place. I live in this little town where nothing's happening. I don't have any money. I don't have any influential people in my life." or "I'm just a this," or "I'm just a that." do people have to have some certain kind of privilege and circumstance to become a better person, or can they decide to bloom where they're planted?
Pastor Joel: That's exactly the key. I was going to say that you've just got to bloom right where you are. Be the best that you can be right where you are because every day that you go to work with a good attitude and you're kind to people and you're full of joy, you're passing the test. I always remind myself that promotion comes from God. It doesn't come from my boss or my parents or from my neighborhood. God will get you to where you need to be if you keep your trust in him. I believe God's working behind the scenes in our life. You've just got to keep pressing forward because God can get you to where you need to be.
Joyce: One thing's for sure: God is an excellent God and he has called us to excellence. I believe any person who will make that decision to step out of mediocrity and be the very best person that they can be, God will promote them in due time. Well, thanks for being on the show today. We hope that your book will be a great success; we know that it will be. Today we're offering my 4-part teaching series "how to succeed at being yourself," and as a gift to you, we're going to send you Joel Osteen's book "become a better you." now that is a good deal that you cannot pass up. You can get my 4-part series "how to succeed at being yourself." you can listen to that. And then when you're not listening, you can read his book on how to become a better you. If you stay with us, my announcer will give you all the information you need to take advantage of this resource offer. We love you. We are so glad that you joined us on the program today. And we're challenging you to come up higher in some area of your life!
&copy Copyright 2012 admin, All rights Reserved. Written For:
Joyce Meyer