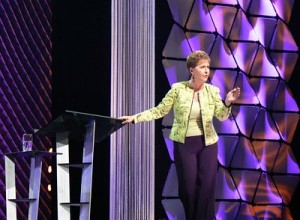 Ginger: Let me ask you this quickly because I know we're about out of time, but there are a lot of people out there who don't realize that they're walking around with a wounded spirit and don't realize that God really does need to reach in and will help them through some of these areas, so what does it mean to have a wounded spirit?
Joyce: I think it can create a lot of sadness, a lot of insecurities in your life, a lot of feelings of having no worth and value. I know for me, when I walked away from my father's house at age 18, I thought that problem is over but little did I know that I had the problem in me — in my soul, in my mind, in my emotions, in my memories, so until I dealt with it — which walking away from it is not dealing with it — until I dealt with it, it was affecting every relationship because it affected my self- image. And I had to learn who I was in Christ and find out what the bible says about how we are fearfully and wonderfully made, and how God created us in our mother's womb with his own hand, and he wrote down every day of our life before ever yet one of them existed. I have to believe that if God in his all-inclusive wisdom didn't stop something in my life, I don't even need to try to figure that out because god is too great for us to figure out. What I need to do is say: you know what, God?  I don't understand it but I'm asking you to work it for good and I believe that you'll do that.
Ginger: Wherever that wound comes from.
Joyce Meyer – Jesus said, "father, forgive them for they know not what they do." So we really need as Christians to not be so quick to condemn, judge and criticize.
&copy Copyright 2012 admin, All rights Reserved. Written For:
Joyce Meyer