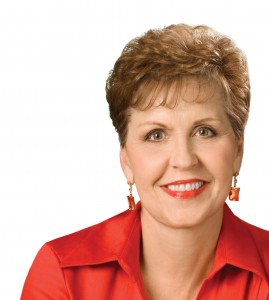 (Don) DEAR, YOU DID THAT, TOO.
(Mary) HE WAS THE KING OF IT!
(Joyce Meyer) I'M LIKE THAT; I DON'T LIKE TO WASTE TIME.  I'M VERY FOCUSED AND VERY GOAL-ORIENTED. MY BIGGEST PROBLEM AS FAR AS GETTING INTO HAVING TO HURRY, THE WAY THAT I GET INTO IT IS I'M TRYING TO DO TOO MUCH AND I DON'T LEAVE MYSELF THAT MARGIN. NOW, I'VE IMPROVED A LOT BUT THAT'S THE THING THAT I HAVE. IT'S BETTER FOR ME TO GET MY CLOTHES OUT AT NIGHT AND GET THAT ALL SETTLED.  IF I KNOW I NEED TO BE AT THE TV STUDIO THE NEXT MORNING, DON'T WAIT UNTIL THE NEXT MORNING TO TRY TO DO ALL THAT BECAUSE IF YOU HAVE ONE LITTLE MISHAP, THEN YOU'RE GOING TO BE LATE.
(Don) WHAT I LEARNED IS WHEN I WAS THIS WAY, I WAS UNABLE TO WALK THE LOVE WALK BECAUSE LOVE IS PATIENT, LOVE IS KIND, LOVE IS NOT RUDE. I DIDN'T REALIZE IT BUT I WAS BEING IMPATIENT, I WASN'T BEING KIND. I DIDN'T HAVE TIME TO BE KIND. I WAS BEING RUDE.  SOMETIMES I'D CUT IN FRONT OF A LINE BECAUSE I'D MISS MY FLIGHT IF I DIDN'T.
(Joyce) I THOUGHT I WAS THE ONLY PERSON WITH THOSE PROBLEMS. – JOYCE MEYER MINISTRIES.
I DIDN'T KNOW OTHER PEOPLE HAD THOSE PROBLEMS.
(Don) THE LORD HAD TO DEAL WITH ME AND HE SAID "YOU HAVE TO PLAN YOUR LIFE OR ELSE OTHER PEOPLE ARE GOING TO PLAN YOUR LIFE FOR YOU," SO I HAD TO LITERALLY START SAYING…. I HAD TO ALLOW MYSELF TWO HOURS AND HEY, BIG DEAL IF I'M WALKING TO THE AIRPORT INSTEAD OF RUNNING THROUGH THE AIRPORT AND BEING RUDE, I CAN WALK THERE, I HAVE PLENTY OF TIME. I CAN STOP AND HAVE A CUP OF COFFEE, I CAN RELAX BEFORE THE FLIGHT, I CAN READ A BOOK. – JOYCE MEYER MINISTRIES.
(Mary) NOT TO MENTION THE CONVERSATION BETWEEN HE AND I GOING TO THE AIRPORT IS MUCH MORE PLEASANT NOW.
(Joyce Meyer) AND IT WON'T BE THE END OF THE WORLD.  I HAVE TO KEEP IN MIND IT WILL NOT BE THE END OF THE WORLD IF I GET THERE TEN MINUTES EARLY AND ACTUALLY CAN JUST SIT IN A CHAIR AND DO NOTHING FOR TEN MINUTES.
(Don) I'LL GET THERE AN HOUR EARLY COMMONLY NOW.
(Joyce Meyer Online) BUT SEE, ME DOING NOTHING IS LIKE: WHOA!
&copy Copyright 2011 admin, All rights Reserved. Written For:
Joyce Meyer