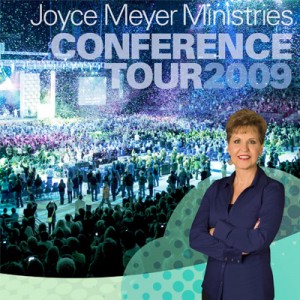 (Don) AND THEN THEY NEED TO RENEW THEIR MIND WITH THE WORD OF GOD EVERY DAY. THAT'S ABSOLUTELY CRITICAL BECAUSE PEACE COMES FROM WITHIN AND THE WORD OF GOD IS LIFE AND PEACE AND IT'S TRUTH, AND WE HAVE TO HAVE THAT WORD OF GOD DAILY IN ORDER TO REMAIN RESILIENT IN A STRESS-FILLED WORLD, BUT THERE ARE OTHER THINGS WE CAN DO. JOYCE MEYER TELLS US THAT WE CAN LIGHTEN OUR BURDEN. WE DON'T HAVE TO BE DOING ALL THESE THINGS FOR ALL PEOPLE. JUST SIMPLY LEARNING TO SAY NO IS ONE OF THE BEST WAYS TO INSULATE OURSELVES FROM STRESS. IT'S SO SIMPLE.  STRESS COMES FROM JUST A FEW THINGS. FOR MOST PEOPLE IT COMES SIMPLY FROM STINKIN' THINKIN', FROM ANXIETY, FROM FEAR, FROM WORRY, FROM UNFORGIVENESS, FROM REHASHING A PROBLEM OVER AND OVER, FROM ANGER, FROM GUILT, FROM GRIEF.  JOYCE MEYER MINISTRIES TEACHES US THAT IT LITERALLY GETS US STUCK IN THAT SIMILAR TO PULLING A SCAB OFF A SORE WHERE IT NEVER HEALS. THAT'S THE MAJORITY OF OUR STRESS.  SO, THERE ARE THINGS THAT WE CAN CONTROL SUCH AS OUR THOUGHTS AND OUR WORRIES, OUR PERCEPTIONS AND OUR ATTITUDES, AND THEN THERE ARE OTHER THINGS SUCH AS OUR FAMILY. REALIZE ONE OF THE GREATEST STRESSES IN OUR BODY IS INTERACTING WITH OUR FAMILY, HAVING A TEENAGER THAT IS OUT OF CONTROL.
(Mary Colbert) THAT'S WHY WE CALL THEM TEEN "AGERS."
(Joyce) THEY'RE TEENS AND THEY AGE US. (laughing)
(Mary Colbert) EXACTLY RIGHT.
(Don) BUT ALSO THERE IS SO MUCH FIGHTING IN BETWEEN SPOUSES AND THERE'S JOB STRESS AND FINANCIAL STRESS, AND THE GREATEST STRESS IS TIME STRESS. THERE ARE SO MANY TIME SUCKERS – THINGS THAT SUCK OUR TIME BECAUSE WE'RE TOO BUSY. MANY PEOPLE ARE HAVING TO WORK TWO JOBS, MANY PEOPLE BECAUSE THEY CAN'T SAY NO, ONE PERSON'S STRESS BECOMES THEIR STRESS ON TOP OF THEIR SHOULDERS. WHAT HAPPENS IS THE STRESS HORMONES INCREASE IN OUR BODY.  THERE'S GOOD STRESS AND THERE'S BAD STRESS. A GOOD STRESS IS A PROMOTION OR WATCHING AN EXCITING BASKETBALL GAME.
(Joyce Meyer) MOVING TO A NEW HOUSE.
(Don) ABSOLUTELY AND IT'S SIMPLY STRESS LIKE A MARRIAGE OR SOMETHING LIKE THAT. THAT'S A GOOD STRESS BECAUSE WHAT HAPPENS IS THE WAY WE'RE DESIGNED, THESE HORMONES INCREASE AND THEN RIGHT AS SOON AS THE STRESS IS OVER, THE BALL GAME IS OVER, OR THEIR PROMOTION IS OVER, THEY GO BACK DOWN TO NORMAL. NOW BAD STRESS IS WHEN STRESS OCCURS TOO FREQUENTLY OR IT'S STRESS THAT WE'RE LITERALLY STUCK IN AND WE CAN'T GET OUT OF IT SUCH AS A BAD DIVORCE OR BEING FIRED AT WORK AND NOT BEING ABLE TO GET A JOB OR HAVING A TEENAGER IN REBELLION, ON DRUGS OR HAVING A COURT CASE OR SOMETHING LIKE THAT. JOYCE MEYER MINISTRIES SHOWS THAT WE'RE LITERALLY STEWING IN THESE STRESS JUICES BECAUSE INSTEAD OF GOING UP AND COMING DOWN, IT STAYS UP. IT'S SIMILAR I TELL PATIENTS IT'S LIKE HAVING YOUR ACCELERATOR STUCK TO THE FLOOR.  WHAT HAPPENS WHEN THIS OCCURS IS OUR BODY GOES INTO HIGH ALERT AND OUR MUSCLES GET TENSE, OUR FISTS MANY TIMES WILL CLENCH UP,
WE'LL RAISE OUR SHOULDERS UP LIKE THAT, AND WHEN THE ACCELERATOR GETS STUCK, THE MUSCLES STAY UP LIKE THIS SO PEOPLE DEVELOP TENSION HEADACHES, OR WE FEEL IT IN OUR GI TRACT, WE TIGHTEN OUR GI TRACT AND WE DEVELOP IRRITABLE BOWEL BECAUSE THE WAY WE'RE DESIGNED, WHEN WE EXPERIENCE FIGHT OR FLIGHT, THIS POWERFUL ADRENALINE GOES THROUGH OUR BODY AND IT ENABLES US TO EMPTY OUR LOAD SO WE CAN RUN FASTER.  ACCORDING TO JOYCE MEYER, THAT'S WHY PEOPLE GET IRRITABLE BOWEL. THAT'S WHY I HAD IRRITABLE BOWEL BECAUSE MY STRESS RESPONSE WAS STUCK AND I WAS STEWING IN MY OWN STRESS JUICES. LEFT UNATTENDED AND NOT COPING WITH THE STRESS WILL ALMOST ALWAYS LEAD TO DISEASE AND UNFORTUNATELY MOST PEOPLE IN AMERICA ARE SUFFERING FROM STRESS-RELATED DISEASES. OBESITY IS ANOTHER STRESS-RELATED DISEASE.
&copy Copyright 2011 admin, All rights Reserved. Written For:
Joyce Meyer